4

min read
|By Jennifer Stock|
Science Fiction Day is January 2, 2023. This day marks the birth of famed science fiction writer Isaac Asimov and honors the history of the genre and its creators. Sci-fi is a rich genre dealing with science and technology and the effects of these advancements on human existence. Science fiction authors explore such concepts as artificial life and robotics, alternate histories and parallel universes, extraterrestrial life, space exploration, and time travel, among others. It spans a wide range of media, from books to television and films.
I'm a fan of time-travel stories, and recently read Kindred (1979) by Octavia E. Butler. In this novel, Dana Franklin is a Black woman who finds herself mysteriously and repeatedly sent back in time to a Maryland plantation before the Civil War. On several occasions, Dana must save the life of her white, slaveholding ancestor to ensure her own birth in the future.
The book included a biography of Butler, which described how, when she was writing as a young girl and during the early stage of her career, science fiction was dominated by white male writers. At the time, Samuel R. Delany was the only celebrated Black sci-fi writer. But the lack of role models didn't deter Butler. She brought her own unique voice to the genre and became an inspiration for the girls and aspiring authors of color who came after her.
I was struck by Butler's determination and her deep love for the sci-fi genre, and so on this #ScienceFictionDay, I want to highlight Black science fiction writers. Some, like Butler, were trailblazers, while others have expanded the genre. Explore these and other authors with Gale Literature.
Steven Barnes (1952–)
Barnes is the author of numerous stand-alone novels and series and has also written screenplays for television, including episodes of The Outer Limits. His wife Tananarive Due is also a sci-fi writer. Read more from Gale Literature: Contemporary Authors.
Octavia E. Butler (1947–2006)
The winner of numerous awards, Butler is the first prominent African American woman science fiction writer. In addition to Kindred, she is the author of several series, including the Parable, Patternist, and Xenogenesis series. Learn more from Gale Literature Criticism.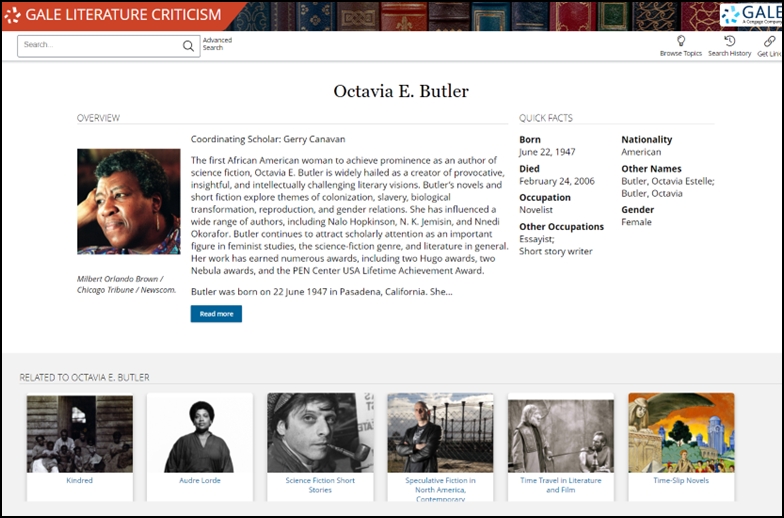 Samuel R. Delany (1942–)
A bestselling author and recipient of numerous awards, Delany's work spans science fiction, fantasy, and nonfiction. Read more with Contemporary Authors.
Tananarive Due (1966–)
The winner of the American Book Award for her novel The Living Blood (2001), Due is also a journalist and educator, and is married to sci-fi writer Steven Barnes. She contributed an autobiographical entry to Contemporary Authors.
Nalo Hopkinson (1960–)
A Jamaican-born Canadian author, Hopkinson draws on African, Caribbean, and Creole folklore in her sci-fi and fantasy novels. Read Catherine Ramsdell's critical essay "Nalo Hopkinson and the Reinvention of Science Fiction," available from Gale Literature Criticism.
N. K. Jemisin (1972–)
Jemisin is the only author to win three consecutive Hugo awards for Best Novel, for each of the novels in her Broken Earth Trilogy. She is also the first African American author to win this award. Check out this All Things Considered interview with the author, available from Gale Literature Resource Center.
Walter Mosley (1952–)
Best known for his detective novels featuring Ezekiel "Easy" Rawlins, Mosley is also the author of several science fiction works, including Blue Light, The Wave, and Futureland: Nine Stories of an Imminent World.Learn more about this prolific writer from the Dictionary of Literary Biography.
Nnedi Okorafor (1974–)
Born in the United States to Nigerian parents, Okorafor incorporates Nigerian culture into many of her works. Among her best-known works are the young adult novel Akata Witch and its sequels, the novella Binti, and Remote Control. Learn more from Contemporary Authors.
Rivers Solomon (1989–)
Solomon's debut novel An Unkindness of Ghosts (2017) earned critical attention for its provocative study of race, gender, and sexuality. The novel is set in space on a colony ship that is divided by race. Check out this review of Solomon's 2021 novel Sorrowland, available from Gale Literature Resource Center.
---
About the Author

Jennifer Stock is a senior content developer at Gale, a Cengage Company, where she has worked on a variety of projects, including eBooks and electronic databases, for K‒12 and academic audiences.