4

min read
| By Kristin Fust, Product Manager |
New Product Launch: Gale Presents: Peterson's Career Prep
The job market has changed dramatically in the last 10 years. Nontraditional career paths are growing, entrepreneurship is on the rise, and there's increased interest in seeking jobs that align with personal values. As we now collectively grapple with the impact of COVID-19, career skills and support remain a vital need.
I'm delighted to announce the release of Gale Presents: Peterson's Career Prep. With an affordable, focused, and streamlined content set, Peterson's Career Prep accommodates job seekers at all levels, whether entering the workforce for the first time or searching for new opportunities after years of employment.
This mobile-accessible solution has a simplified home-page design that allows users to spend less time navigating the resource and more time focusing on building their career skills. Several noteworthy features include:
VisualCV Resume Creator
Allows users to create visually interesting résumés and cover letters. Users gain access to an external library of résumé samples from 5,000 industries—and can even create free "websites" to share their résumés externally with prospective employers.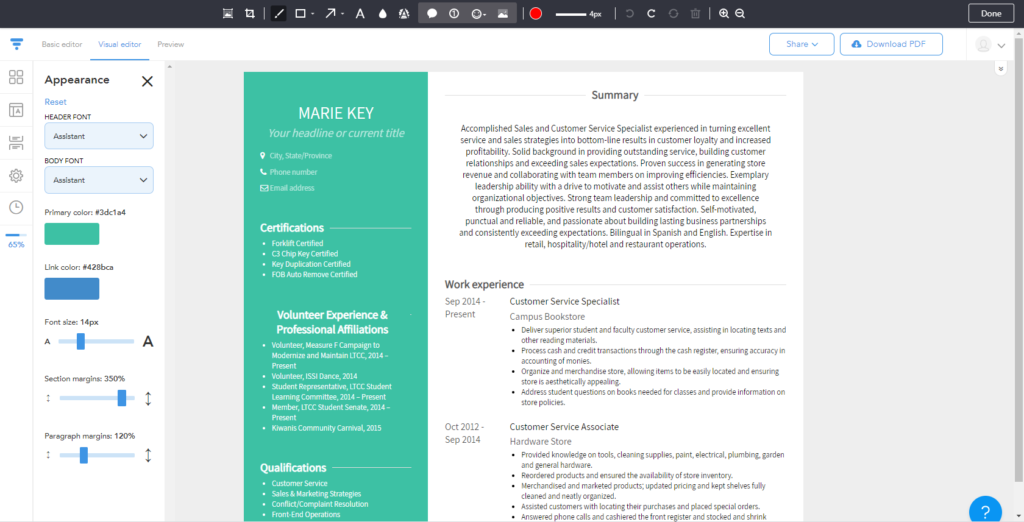 Career Assessments
Contains four in-depth assessments aligned to a user's interests, values, personality, and workplace preferences. The assessment results drive personalized career recommendations. The Career Assessments tool presents users with colleges that might be of interest based on alignment between the user's assessment results and the college's program inventory. The Connect tool provides an easy way for users to request additional information directly from the colleges!
Career Database
Includes a database of career information that uses the most recent data available from O*NET and the U.S. Department of Labor. Potential career matches are suggested based on a user's assessment results, and suggestions can be viewed by job title or subject area. Military crosswalks are included to help individuals transitioning out of the military translate their skills to civilian occupations.
Job Search
Features a Job Search tool. Job listings are sourced from Indeed and updated daily. Users are able to limit results to employment type (e.g., internship, part time, full time) and look for job listings that align with their assessment results.
Virtual Career Library
Includes a content library with helpful articles and tips focused on writing résumés and cover letters, networking, and interviewing. Content is written in a friendly, conversational tone. Bonus worksheets and workbooks can be downloaded for patrons who want to dig deeper into career exploration or their assessment results.
Together, with libraries across the nation, Gale looks to provide personalized, outcomes-based learning solutions that meet job seeker demands. If you're interested in learning more about Peterson's Career Prep or discovering the full suite of Peterson career and test-prep resources, visit gale.com/careerprep.
---
About the Author
Kristin Fust started at Gale as an editor before transitioning to the world of product management. She now maintains the GVRL eBook platform and is focused on turning customer and user feedback into product updates that continuously improve the GVRL experience.
Air Max 1