3

min read
By Melissa Rayner
Why is everyone so hung up on April Fool's Day, when there's actually a far more fascinating pseudo-holiday happening today? That's right, people; it's National One Cent Day, so get excited!
Okay, a penny won't buy you much these days, except maybe good luck if you were to find one and pick it up…
But back in the golden age of yore, one cent went a long way. Don't believe me? Check out these fun examples.
Going somewhere? Well, in 1932 you could travel the tracks for just a penny per mile. That's certainly cheaper than booking a flight!
And while you're riding the rails, you might as well have something to read. Why not pick up a copy of the New York Tribune? In 1909, the cost per edition was–you guessed it–one one-hundredth of a dollar.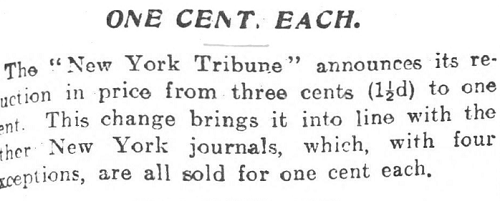 You could also help earn women the right to vote in 1893 by pledging just a penny a day to support the suffragettes' campaigning.
Looking for something else to believe in? Well, for just the cost of a penny in 1869, you could buy salvation for you and all your friends–or at least you could pay the printer for the cost of a single religious tract.
Conversely, one cent has the power to do just as much–maybe even more–damage as it does good. In 1946, one cent halted labor negotiations for over 170,000 GM employees.
Worse yet, a single cent bought life imprisonment for this down-on-his-luck criminal in 1894.
So how will you celebrate today? Will your penny prove lucky, or could it be the start of a string of inescapable misfortunes? Only the penny knows. Let's celebrate all is has given and continues to give us today.
Extra points if you can pull a penny prank on one of your friends or coworkers!
REFERENCES:
[alert-info]
About the Author
Melissa is obsessed with books, birds, and bonbons. She is a new mom and holds an MA in Applied Sociology. She also writes fiction and skips about the interweb as Emlyn Chand.
[/alert-info]Air Jordan