3

min read
| By Traci Cothran, Senior Manager, Content |
There's nothing better than finding a new-to-you author whose books you love.  There are a lot of good writers being published today, some not-so-good, and a few really great ones—and I love finding those great ones, where you read everything they've written, then impatiently await their next book.  That's what it's like for me and Stephen Mack Jones.
I work on our Gale K12 team located in the Detroit suburbs, and came across his work as Jones is one of our Thorndike authors.  He has set his last two mysteries in Detroit, and he lives in the local community, which piqued my interest.  Lives Laid Away starts off with a bang, and features what is distinctive to Detroit—our international border crossing with Canada, and the issues and opportunities that come with that geography.  Starring ex-cop August Snow, Lives is rich in atmosphere—it feels like modern noir, which explains Jones' Hammett Award and Nero prize.  This mystery captures the duality of any city making a comeback—the gritty underside juxtaposed with its shiny new aspects, and the tension between those cashing in on the resurgence and those folks left out.
I was psyched to attend the Lives Laid Away publication event recently at a lettershop press in Detroit's old Eastern Market.  Jones read from his work, answered questions, and graciously chatted with everyone assembled.  He has deep connections to the community and is invested in the success of its people, and his affinity to Detroit is evident in his work.  He writes of its neighborhoods and people with admiration and respect, and he understands that everyday people make a city great—and that's all evident in his fiction.
But I had one burning question:  Jones mentioned a delicious restaurant in Mexicantown in the book, but I couldn't find it in real life.  I introduced myself to the author, and Jones thanked our Thorndike team for publishing his large print book, noting the importance of having large print editions available for accessibility to all.  I got an awesome photo with him, and have to say my only disappointment-turned-opportunity was finding out that the restaurant mentioned was an amalgamation of several real-life restaurants—all of which I now need to try out!
Mystery fans will love Jones' books, both August Snow and Lives Laid Away—they're smart and expertly crafted by a writer with a keen eye for character development and pacing.  Readers needn't know Detroit to love these mysteries, though I'd wager they may want to visit the city after reading them!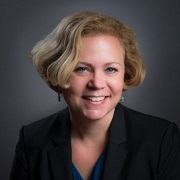 Meet the Author
Traci Cothran is a manager in Gale's Database Program and a history buff, so she can often be found watching videos from the early 1900s in Gale's World History In Context.  


Air Force 1