3

min read
Posted on May 26, 2016
Primary sources have been called snippets of history – small windows that show a picture of one moment in time. A letter, a memoir, a personal account – each provides a unique, often personal perspective. And when they are put together in a meaningful way, they create a full and rich picture of historical events, people, and developments while supporting national learning standards.
By directly engaging with artifacts and individual records, students can explore, analyze, and delve more deeply into a topic.  In addition, primary sources help students:
Develop critical thinking skills by examining meaning, context, bias, purpose, point of view, and more.
Pursue independent learning as they construct knowledge by interacting with sources that represent different accounts of the same event/topic.
Understand how viewpoints and biases affect interpretation of history.
In a new partnership, Gale and Smithsonian are now delivering some 1,800 documents, maps, historical objects, and other materials from Smithsonian's archives and museum collections and from Gale's leading digital collections in the new Smithsonian Primary Sources in U.S. History.
This new product features primary source images that are hand-curated by scholars at the Smithsonian – experts who have a unique knowledge of U.S. history. This collection provides insight into key events and historical figures, linking students to unique artifacts that enrich their learning. Gale, in collaboration with an advisory board of teachers, provides contextual content within the product to support curriculum standards linking key events, historical figures, and artifacts to make for an enriching learning experience.
To make the collection even more relevant, content is curriculum-aligned providing teachers and librarians with easy access to relevant resources that are otherwise hard to find. Here are a few ways teachers, librarians, and students can use Smithsonian Primary Sources in U.S. History:
Toggle between content by time period, from Pre-Colonial times, to the Progressive Era, and through to what is happening today in the New Millennium.
Integrate introductory materials, questions, citations, and quick facts within the context of an historical era and topic.
Access content relevant to today's teaching standards, correlated to both National and State standards.
Seamlessly link to additional content in Gale's U.S.History In Context.
Move content into student workflows with Google Apps for Education tools.
Create classroom assignments with Google Classroom Share.
Quickly access product with a mobile app.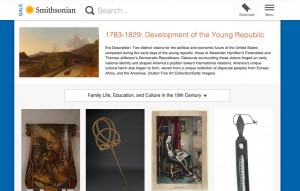 Help students create a beautiful picture of history using primary sources.  Request your free trial today.