4

min read
Posted April 7, 2016
By Caitlyn Colman-McGaw
It's now widely acknowledged that the Stonewall Riots of 1969 represent the historical tipping point of the Gay Rights movement. Years and years of work by LGBT folks in New York City and beyond culminated in riots on the street of the Village. With this year representing the 45th anniversary of Stonewall I decided to take a look back at what was it like in the years after Marsha P. Johnson & Company threw the first brick and ignited a movement. Specifically, what was it like to be a lesbian in the 70s in New York City? Gale'sArchives of Human Sexuality and Identity is a fantastic place to discover more fantastic information.
For $0.50, women looking to meet other women could peruse City Women's regularly posted social events. The magazine constantly aimed to stay fresh and justified the ever-evolving format by claiming they "felt boxed in by our boxes," a winky acknowledgement to their target audience.
Some such events included gender-specific activities. Inspired by years of the homoerotic traditions of the bathhouse, events like women-only swimming was available downtown.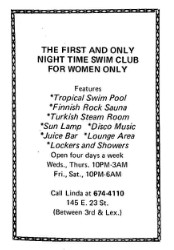 The sheer range of events offered via resources is impressive. A monthly event calendar included the Lesbian Feminist Liberation Political Committee Meeting, Women Only Volleyball and Dykes Opposed to Nuclear Technology among others – which is not to say there wasn't crossover in attendees. As a note, any questions about the calendar were to be directed to the Gay Switchboard at 777-1800 or the Lesbian Switchboard at 741-2610.
Lesbianism crept into mainstream media as well, often in blatantly offensive articles. Cosmopolitan tried to cover lesbians in an "Emotional Behavior" article penned entirely by straight authors who deemed homosexuality an illness.  Lesbian Feminist Liberation, Inc. boldly protested Helen Gurley Brown's editorial decisions, eventually getting the magazine to include a doctor's note that clarified lesbians were in fact perfect healthy.
The women who politicized the feminist movement and demanded the inclusion of lesbians referred to themselves as the Lavender Menace. As inclusive as many movements were, there was still blatant inequality among various groups. Even just the description "a group of lesbians, black women and women from the class workshop" doesn't recognize the intersectionality of these identities. As progressive as activist groups were, there was still a lot of work to be done.
Being a lesbian in a city like New York in the 70s was a lot of work on a personal and political level, but women loving women paved the way for their future sisters and brothers. What kind of ephemera will represent our generation's struggles and triumphs?
[alert-info]
About the Author
I'm the Young Adult Educational Programming Coordinator at the New York Public Library, which means I get to work with teens and rad teen librarians all over the city. I'm a huge fan of graphic novels, young adult literature and coffee. I live in Brooklyn with my archivist roommate. We try not to spend too much time nerding out over history but sometimes it is inevitable.
Find me on Twitter
[/alert-info]nike sb zoom bruin premium se pink and blue hair