3

min read
By Debra Kirby
What do winter in Michigan, the Detroit Zoo, and the "greatest survival story of all time" have in common?  Answer: The Shackleton Endurance Exhibit that runs through the end of the year at the Detroit Zoo, one of my favorite local hang outs—with or without kids in tow.
I visited the exhibit in August when the indoor venue provided a respite from the summer heat, though the photos, videos, and artifacts sent shivers down my spine. During a subsequent visit last week I also found myself feeling a bit sheepish over my typical reaction to our Michigan winters, which involves lots of sprinting from door to car when I must venture out, all the while doing a fair bit of complaining. Safe to say I would not have answered the following recruitment ad, which Shackleton placed in a London newspaper: "MEN WANTED: FOR HAZARDOUS JOURNEY. SMALL WAGES, BITTER COLD, LONG MONTHS OF COMPLETE DARKNESS, CONSTANT DANGER, SAFE RETURN DOUBTFUL. HONOUR AND RECOGNITION IN CASE OF SUCCESS. SIR ERNEST SHACKLETON"
However, from the warmth and safety of my cozy armchair, hot chocolate within reach, I was very happy to search Gale databases to learn more about Shackleton and his Antarctic expeditions, where I found the following fascinating facts:
Shackleton and his crew were ready to sail from England on the Endurance, on August 1, 1914, when World War I broke out. Without consulting anyone, Shackleton offered the ship to the British government. The First Lord of the Admiralty, Winston Churchill, turned down the generous offer and told him to sail on to Antarctica. He left port on August 8, 1914. (World History In Context)
Antarctica is the coldest and windiest place on Earth. The wind can gust up to 200 mph (322 km/h), or twice as hard as the average hurricane. Surprisingly, little snow actually falls in Antarctica; because the air is so cold, the snow that does fall turns immediately to ice. (Science In Context)
Shackleton is buried on a hill above the whaling station at South Georgia Island, a sub Antarctic island administered by the United Kingdom. (Biography In Context)
If you don't know the details about Shackleton's adventures, including whether he and his crew of 28 men survived, discover the story by requesting a trial of Gale's In Context family of online resources, and be prepared to be amazed. If you happen to live in a northern climate and don't love winter, you will emerge from your research knowing it could be so much worse!
What other subjects—winter related or not—would you like to learn more about? In the unlikely event we don't already cover it in one or more of our databases, we'd be happy to do so. We love partnering with librarians, teachers, students and other users of our databases, who often provide some of the best ideas. For example, when we received a request for shorter citations, we listened! To better support student in citing their research, Gale has shortened the In Context citation URLs.  These shorter URLs will provide learners with a direct link to the Gale document and is included in the document's Citation Tools.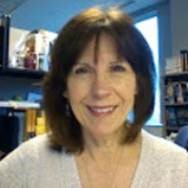 About the Author
When Debra, a 30-year veteran of the publishing industry, is not working or reading, she can be found gardening, running, swimming, or "motivating" the students attending her early morning spinning classes at the local YMCA by sharing lame puns and quiz questions.
Nike