6

min read
| By Gale Staff |
Social studies helps students develop a sense of place within the world. They learn the value of citizenship, democracy, and culture; they acquire the skills to think critically about our interconnected and exceptionally diverse society. Social studies teaches young people to question and appreciate modern society's complexities. It's a foundational topic for long-term success, no matter a student's chosen career path.
As an educator, you recognize the subject's value—but the learning outcomes can be difficult to quantify for those outside the profession. While states and school districts seek to undermine our children's ability to learn about important social issues, it's our role as educators to provide a loving and open environment grounded in facts and historical sensitivity.
Social studies is a multidisciplinary field that touches on history, economics, geography, government, sociology, and anthropology. Because social studies is not a standalone field but rather a multi-dimensional concept, educators seeking to reinvigorate their social studies classroom need a range of tools. The Gale In Context suite supports students' social studies engagement with a comprehensive collection, including 13 Gale In Context themes—biography, literature, U.S. history, and more. A multifaceted subject demands an interdisciplinary database.
Make an impact this school year and leverage your Gale In Context subscription to help students dive into social studies and become well-rounded, observant individuals. Our extensive and diverse resources encourage users to foster connections to the material and develop independent research skills. Let's take a look to see how Gale products can elevate your social studies classrooms.
Discover New Perspectives
Students may not have had the chance to travel or interact with people from different backgrounds. As such, one is informed by the people immediately surrounding them and those they follow on social media. Gale's databases present an opportunity to expand those perspectives. Each database houses valuable primary source materials and content from various publications, regardless of their political alignment. Plus, our team of educational experts vets these resources to ensure relevancy, accuracy, and classroom appropriateness.
To demonstrate this range of perspectives, look no further than Gale In Context: Opposing Viewpoints. Your students can engage with the many sides of widespread national debates. What role do carbon offsets play in combating climate change? How should athletics approach gender identity? Should the U.S. government limit the influence of big tech? With the product's Disinformation and Misinformation portal, your students will learn how to separate facts from fiction, spot fake news, and become savvy digital citizens. Gale in Context: Opposing Viewpoints empowers students to expand their understanding of these nuanced issues and grow as researchers.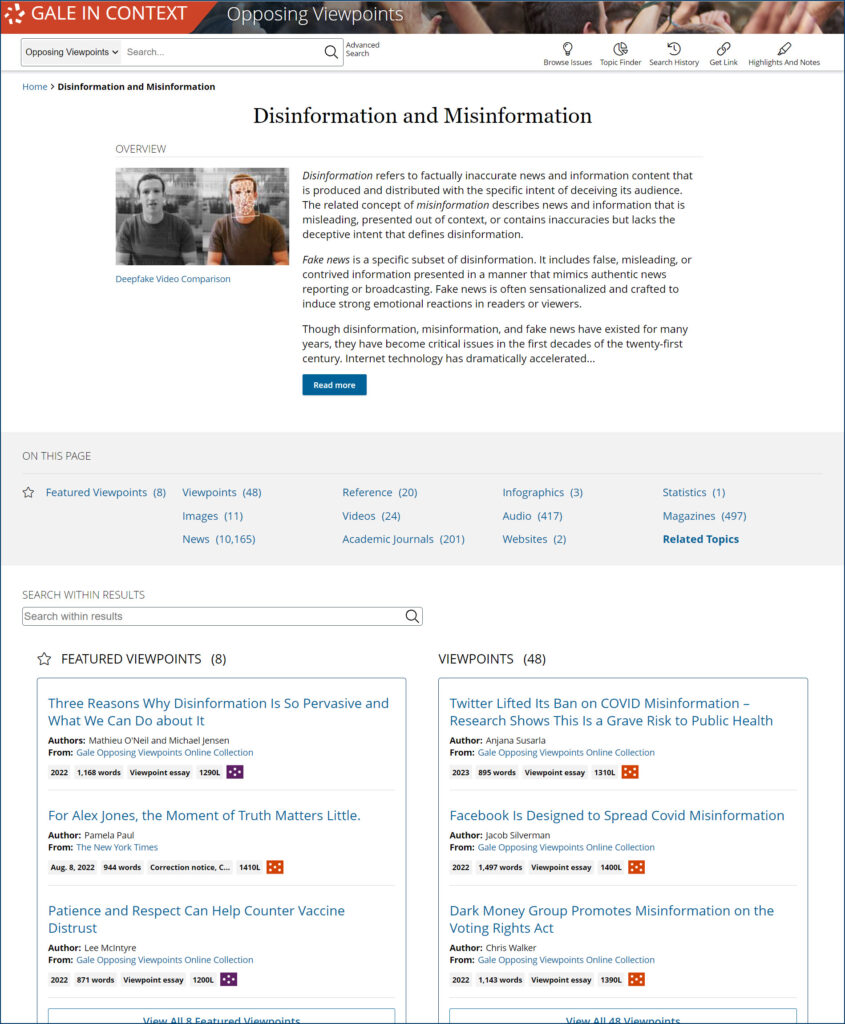 Social studies teachers will also find value in Gale In Context: Biography. Biographies help students see themselves in others and develop empathy. They can customize their biographical research based on name, nationality, ethnicity, gender, etc. From changemakers like Amelia Earhart to game changers like Taylor Swift and Michael Jordan students can enhance their social studies learning by experiencing their stories.
Cultivate Independent Learning
Gale In Context products are designed for diverse needs. Every product in the Gale In Context suite is customizable, helping students develop autonomy and ownership over their learning experience. For example, each topic page features different types of materials, including podcasts for auditory learners or videos for the more visually inclined. Fonts are adjustable for size, color, and spacing, helping those with different visual abilities or dyslexia. Content is available via downloadable text-to-speech files and dozens of languages. With these tools from Gale, your social studies curriculum can accommodate all of your students, helping each of them optimize their individual experiences for their unique needs in their academic growth.
Social studies coursework spans several age groups. Gale In Context offers grade-level specific databases, so you don't have to worry about students accessing content beyond their skill level and becoming disengaged. For example, beginning learners have Gale In Context: Elementary, a colorful, easy-to-navigate database with adaptable reading levels. Despite its simplified structure, the collection's content explores many topics relevant to your social studies curriculum. Learn the basics of the American economy and study essential themes in world geography. High school educators can tap into Gale In Context: High School, a database curated for more advanced, nuanced topics like social issues or personal finance. No matter what grade or subject you teach, you'll find a Gale In Context product that supports your educational goals.
Study Issues Around the World
Students must have access to a global perspective to inspire a big-picture way of thinking. Gale In Context: Global Issues and Gale In Context: World History are great starting points for international topics and non-Western viewpoints, where students can discover updated publications about the Russian invasion of Ukraine, including commentaries from the New York Times or articles from China's Xinhua News Agency. This global exposure encourages students to hone their digital literacy and better understand media bias.
Find equally compelling content in Gale In Context: Environmental Studies. You can browse by major topics and see how different countries approach issues like food waste and renewable energy. After all, climate change affects everybody, not just those within our borders. The U.S. perspective may have a dominant spot within a global conversation, but by no means are we the only voice that matters. Social studies lessons help your students develop their identity within the greater context of our complicated world. Maybe they'll be inspired to help change it for the better.
So let's get excited! Schools can now purchase Gale In Context: For Educators alongside the Gale In Context suite. This supplemental database is designed specifically for teachers, meaning you can spend less time lesson planning with trusted, vetted, and accessible content at your students' fingertips.
For beginner users, Gale In Context: For Educators features helpful tip sheets and training videos so you can easily guide students through the ins and outs of these products. Veteran educators can access meaningful professional development resources or share their experiences with others on the platform. No matter where you are in your career, this product can help you become more efficient and organized so you can focus your energy on being a great teacher.
Upgrade your social studies lessons with Gale in Context's suite of classroom products. To learn more and get started, contact your local Gale representative.